Water Project Activities Limited by COVID-19 Surge
Reported by Rebero Jean d'Amour, Story written by Amanda Mulder
In July 2021, planned Water Project activities were postponed because of a surge in COVID-19 cases that lead to public health lock downs across the country. During this lockdown, all offices in Kigali and in 8 districts were closed and movement between provinces was prohibited. During this time, Water Project staff worked from home, and remotely supported volunteers who were able to continue home visits and sifting and washing sand during the lockdown. Accordingly, our volunteers were able to visit 98 families with SAM3 household filters, 11 facilities with SAM2 community filters, and 11 churches with Rain Water Harvest sytesms to make sure they were in good working order.
Daniel is a Water Project volunteer from the Rukumberi sector. He was one of the volunteers who was conducting home visits and washing sand. He explained, "As it is the dry season, there is no rainwater to use for washing sand." So, the Water Project decided to buy water from a servie in order to keep sand washing happening, so that supplies are ready for when distributions can resume.
Location:
| | |
| --- | --- |
| Country: | Rwanda |
| District: | Ngoma |
| Sector: | Rukumberi |
| Cell: | Gituza |
Solution: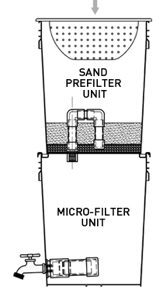 SAM3 (Sand And Membrane) filters are placed in households for a family and their neighbors. They meet WHO's standards and requires no electricity to function, making it ideal for rural communities. Each family receives extensive training and ongoing volnteer support to maintain the filter for it's 10-year-plus lifespan.