Impact of COVID-19 on March 2020 Activities
Reported by Rebero Jean d'Amour, Story written by Amanda Mulder
Other monthly planned activities for Water Project such as sifting and washing sand, installation of Rain Water Harvest Systems, trainings & campaigns were not implemented due to COVID-19.
The 1st case of COVID-19 was registered in Rwanda on 14th March 2020 and since that date, the Government of Rwanda took some measures to prevent the spread of COVID-19, such as restriction of gatherings of more than 10 people, measures that later came to a total lockdown of all nonessential services for 2 weeks starting from 21st March 2020.
WP staff stayed at home in this period and supported remotely Water Project volunteers who continued home visits for checking the functionality of SAM III filters and visiting SAM II water filters and RWHS.
Location:
| | |
| --- | --- |
| Country: | Rwanda |
| District: | Bugesera |
| Sector: | Rilima |
| Cell: | Nyabagendwa |
Solution: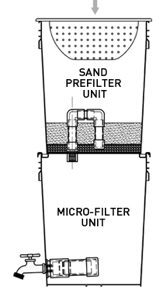 SAM3 (Sand And Membrane) filters are placed in households for a family and their neighbors. They meet WHO's standards and requires no electricity to function, making it ideal for rural communities. Each family receives extensive training and ongoing volnteer support to maintain the filter for it's 10-year-plus lifespan.