Claudine and Her Family Receive a SAM3 Filter
Reported by Rebero Jean d'Amour, Story written by Amanda Mulder
One of the families that received a SAM3 household filter during the month of June 2021 was the family of Mukamana Claudine. Our volunteers asked her about her life and she told us, "I am married and we are blessed to have three children. Before we got this water filter, we were using dirty water from Mugesera and Birira Lake for drinking and other domestic purposes. We could not boil it because firewood is expensive. Although we live near the tap water, it is not regularly available. We were slected to recieve a SAM3 water filter as a solution to this problem of using dirty water at home. I am very happy to have this filter. I commit myself to take care of it and I will help neighbors without a filter to clean water. We thank everyone who played a role to give us the filters which will enable us to drink clean water and have good health.
Location:
| | |
| --- | --- |
| Country: | Rwanda |
| District: | Ngoma |
| Sector: | Rukumberi |
| Cell: | Rubona |
Solution: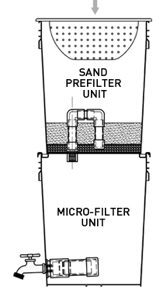 SAM3 (Sand And Membrane) filters are placed in households for a family and their neighbors. They meet WHO's standards and requires no electricity to function, making it ideal for rural communities. Each family receives extensive training and ongoing volnteer support to maintain the filter for it's 10-year-plus lifespan.