COVID-19 Restrictions Impact Work of Volunteers
Reported by Rebero Jean d'Amour, Story written by Amanda Mulder
A recent surge in COVID-19 cases has lead to fluctuating and unpredicatable government restrictions that have affected the smooth flow of Water Project activities. Despite these challenges, volunteers distributed 40 SAM3 household filters during June 2021. Also, our volunteers continue to wash and sift sand, while maintaining hand washing practices, social distancing, and wearing face masks to protect each other against the continued risk of contracting COVID-19.
Volunteers were also able to visit 167 homes during June 2021 in order to check on the recipient families. Technicians also checked 15 SAM2 community filters and 13 rain water harvest systems to ensure their functionality.
Location:
| | |
| --- | --- |
| Country: | Rwanda |
| District: | Ngoma |
| Sector: | Rukumberi |
| Cell: | Gituza |
Solution: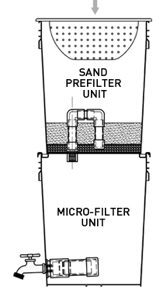 SAM3 (Sand And Membrane) filters are placed in households for a family and their neighbors. They meet WHO's standards and requires no electricity to function, making it ideal for rural communities. Each family receives extensive training and ongoing volnteer support to maintain the filter for it's 10-year-plus lifespan.