96 SAM3 Filters Distributed
Reported by Rebero Jean d'Amour, Story written by Amanda Mulder
In discussing activities completed in February, Water Project Coordinator, Rebero told us, "I was so impressed by the work of Water Project volunteers who were able to distribute 96 SAM3 filters in one month under difficult conditions due to COVID-19. The local leaders requested them to bring assembled SAM3 filters to the sector office; then make the distribution in the presence of sector representatives to ensure COVID-19 prevention measures are observed under the inspection of sector authorities."
"The volunteers had to distribute a maximum of 25 SAM3 household filters per day at the sector office to make sure there is social distancing among beneficiaries. In addition to distributions, water project volunteers were also able to visit and fixed 7 SAM3 household water filters under regular maintenance visits to ensure the filters remain functional. I can't find words to thank them enough for their contribution to the change in the wellbeing of the community."
Location:
| | |
| --- | --- |
| Country: | Rwanda |
| District: | Ngoma |
| Sector: | Rukumberi |
| Cell: | Gituza |
Solution: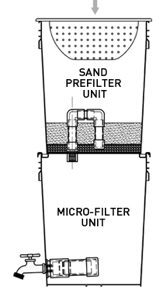 SAM3 (Sand And Membrane) filters are placed in households for a family and their neighbors. They meet WHO's standards and requires no electricity to function, making it ideal for rural communities. Each family receives extensive training and ongoing volnteer support to maintain the filter for it's 10-year-plus lifespan.