SAM2 Community Filter Installed at GS Rwintashya
Reported by Rebero Jean d'Amour, Story written by Amanda Mulder
During the month of November 2020, schools reopened after months of closure due to COVID-19 (since March 2020) and the Water Project was able to install a SAM2 filter at the school of GS Rwintashya.
We spoke to Pastor Augustin who is both the Anglican Church leader in Rwintashay and the Head Teacher for GS Rwintashya. He told us, "This school has tap water which is not regularly available and we had to fetch water from lake or use rain water in rain season. We are very pleased to receive this water filter which will enable the pupils to drink clean water. Before the installation of this filter, the school inspections requested us to provide safe drinking water to pupils but we could not find it due to limited means for the treatment of water from lake or rain water. I thank you for this SAM2 filter which responds to the school requirements and I ensure that this filter will be well maintained by the beneficiary school".
Location:
| | |
| --- | --- |
| Country: | Rwanda |
| District: | Ngoma |
| Sector: | Rukumberi |
| Cell: | Rubona |
| Village: | Maswa I |
Solution: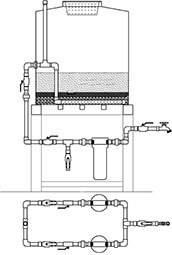 SAM2 (Sand And Membrane) filters are large capacity solutions with a 10-year-plus lifespan. A SAM2 requires no electricity or fuel and has no moving parts, making it the ideal solution for rural areas. Schools and Health Clinics are trained how to use and maintain the filter, empowering them to be self-sufficient and address their own needs.