310 Solutions Checked by Volunteers
Reported by Rebero Jean d'Amour, Story written by Amanda Mulder
During the month of March 2020, water project volunteers performed home visits in the sectors of Rilima, Ntarama and Gashora. Water Project volunteers ensured filters were working well; conducting backwashing and adding sand when needed. They also encouraged beneficiaries to remember the importance of drinking and using clean water and on filtering water for their neighbors without water filters. They visited in total 271 SAM3 filters and 28 Slow Sand filters.
Also in March, water project volunteers checked and did general backwashing for 4 SAM2 Community filters installed at Health Center and Schools and visited 7 Rain Water Harvest Systems installed at different churches in the sector of Rilima. All visited rain water harvesting systems were found well-functioning.
Location:
| | |
| --- | --- |
| Country: | Rwanda |
| District: | Bugesera |
| Sector: | Rilima |
| Cell: | Kabeza |
Solution: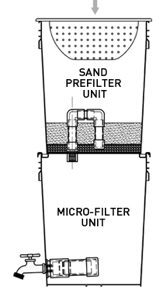 SAM3 (Sand And Membrane) filters are placed in households for a family and their neighbors. They meet WHO's standards and requires no electricity to function, making it ideal for rural communities. Each family receives extensive training and ongoing volnteer support to maintain the filter for it's 10-year-plus lifespan.