Walk for Water: Rilima
Reported by Rebero Jean d'Amour, Story written by Amanda Mulder
In Rilima, on October 3, 2019, the Water Project hosted a Walk for Water.
The purpose of this event was to mobilize the community with messages of hygiene and sanitation. Just before the walk, volunteers built a latrine and wash room for a local vulnerable family. Patricia is a widow and has three children, including two who are still school. Together with neighbors, local leaders from with the support of World Relief constructed a latrine and washing-room for her family. She was also selected to be given a SAM3 Household Filter on the day of the walk.
We also hosted a competition for local Hygiene clubs. The competition's theme was: "Kunywa amazi meza, Gukaraba intoki dukoresheje isabune, kugira umusarane wujuje ibyangombwa, tubigire umuco, bizatuma tugira ubuzima bwiza". This translates to: "Drinking clean water, hand washing with soap and having a hygienic latrine will make us healthy". Staff awarded prizes to encourage clubs to continue teaching hygiene and sanitation in the community.
Location:
| | |
| --- | --- |
| Country: | Rwanda |
| District: | Bugesera |
| Sector: | Rilima |
| Cell: | Kabeza |
Solution: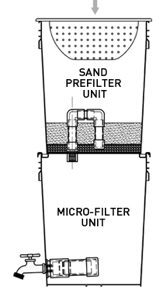 SAM3 (Sand And Membrane) filters are placed in households for a family and their neighbors. They meet WHO's standards and requires no electricity to function, making it ideal for rural communities. Each family receives extensive training and ongoing volnteer support to maintain the filter for it's 10-year-plus lifespan.