Final 227 SAM3 Filters Distributed in Rilima
Reported by Rebero Jean d'Amour, Story written by Amanda Mulder
The month of October 2020 was marked by the end of water project activities in Rilima sector. The WP volunteers completed the distribution of SAM III water filters to 227 selected households from the cells of Karera, Ntarama and Nyabagendwa. The volunteers showed great commitment and hard-work during these distributions especially when they helped moving SAM III filters to Karera cell which is far from the distribution site. They did this to ensure the beneficiaries are not moving a long distance when coming to the distribution site. May God bless them for their kindness and hard work!
Upon completion of the work, staff spoke with Antione, the President of the Rilima volunteer team. "During the month of October 2020, we distributed household filters in the cells of Ntarama, Nyabagendwa and karera. The challenge was the distribution in Karera cell which is far from the distribution site. We brought SAM III filters in Karera cell because it could be difficult for beneficiaries to walk from distribution site to Karera with assembled SAM III filters on head. Beneficiaries of water filters were very happy to receive them because before they had to boil water before drinking it while they had challenges of buying firewoods".
Location:
| | |
| --- | --- |
| Country: | Rwanda |
| District: | Bugesera |
| Sector: | Rilima |
| Cell: | Ntarama |
Solution: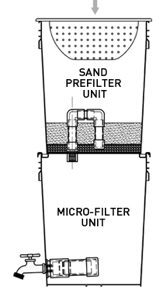 SAM3 (Sand And Membrane) filters are placed in households for a family and their neighbors. They meet WHO's standards and requires no electricity to function, making it ideal for rural communities. Each family receives extensive training and ongoing volnteer support to maintain the filter for it's 10-year-plus lifespan.