Clean Water is a Priority for Providence and Silas
Reported by Rebero Jean d'Amour, Story written by Amanda Mulder
Providence and her husband, Silas, have always made clean water a priority for their large family. They dedicated precious time, energy, and money to boil or purchase their water. But since they were selected to receive a SAM3 Household Filter, their commitment to clean water for their family has grown into advocacy for clean water for their community. When neighbors stop by for a clean cup of water, Providence is eager to share - not only clean water, but also education about the difference clean water makes.
Read their full story at 20liters.org/clean-water-priority
Location:
| | |
| --- | --- |
| Country: | Rwanda |
| District: | Bugesera |
| Sector: | Rilima |
| Cell: | Kabeza |
Solution: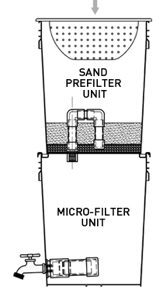 SAM3 (Sand And Membrane) filters are placed in households for a family and their neighbors. They meet WHO's standards and requires no electricity to function, making it ideal for rural communities. Each family receives extensive training and ongoing volnteer support to maintain the filter for it's 10-year-plus lifespan.