With Personal Protection in Place, Volunteers Resume More Activities
Reported by Rebero Jean d'Amour, Story written by Amanda Mulder
In May 2020, the Water Project was able to provide volunteers with face masks, soap, gloves, and other personal protective equipment that allowed them to resume some activities. In particular, volunteers in Rukumberi and Rilima were able to resume sifting and washing sand - while adhering to social distancing guidelines.
Also in May, Water Project volunteers were able to visit families to check the functionality of SAM3 Household filters. During these visits, they also provided additional education on hygiene and health including cleaning their hands often using soap and water as one of the measures for COVID-19 prevention. In total, volunteers visited 101 families in the sectors of Rilima, Gahanga and Mwogo.
Volunteers also checked on 10 SAM2 Community Filters and 11 Rain Water Harvest Systems. One of the Rain Water Harvest Systems was found in need of repairs, which will take place as soon as possible.
Not all planned activities were able to resume. We had to further delay installing additional Rain Water Harvest Systems, SAM2 Community filters, and meetings. Water Project staff were also asked to continue working from home.
Location:
| | |
| --- | --- |
| Country: | Rwanda |
| District: | Bugesera |
| Sector: | Mwogo |
| Cell: | Rugunga |
Solution: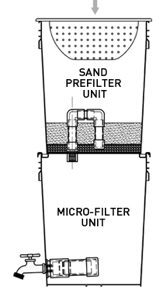 SAM3 (Sand And Membrane) filters are placed in households for a family and their neighbors. They meet WHO's standards and requires no electricity to function, making it ideal for rural communities. Each family receives extensive training and ongoing volnteer support to maintain the filter for it's 10-year-plus lifespan.